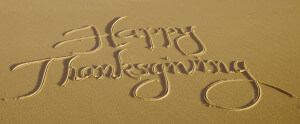 Thanksgiving on St. Thomas
Wow! It's already November and Thanksgiving is right around the corner! Living on St. Thomas makes it extra special to gather friends and family since many have close ones far away.
Things to Do in St. Thomas
If you're coming from afar and looking for something fun to do during this special holiday the islands always have something to offer. For example check out Paradise Jam which is the college basketball tournament held at the University of the Virgin Islands and it begins on Thanksgiving Day. The tournament will feature the top women's team from across the country which is pretty cool!
Yearly Thanksgiving Regatta
For something more wet and splashy the annual Thanksgiving Regatta is being held over in St. john (Coral Bay) and it's a great family activity. While you're over there and if you're already tired of turkey check out the delicious french fries over at Aqua Bistro, they are delicious!
Have a wonderful evening and hope that Good Day Charters can be a great part of your holiday planning!