Our Boats
Please choose your boat below! All pricing is for groups of 6 passengers or less. For groups larger than 6, we charge $75 per person over 6 up to 10 passengers. For groups larger than 10 please contact us at 340-514-3458.
"Good One" 34′ Raptor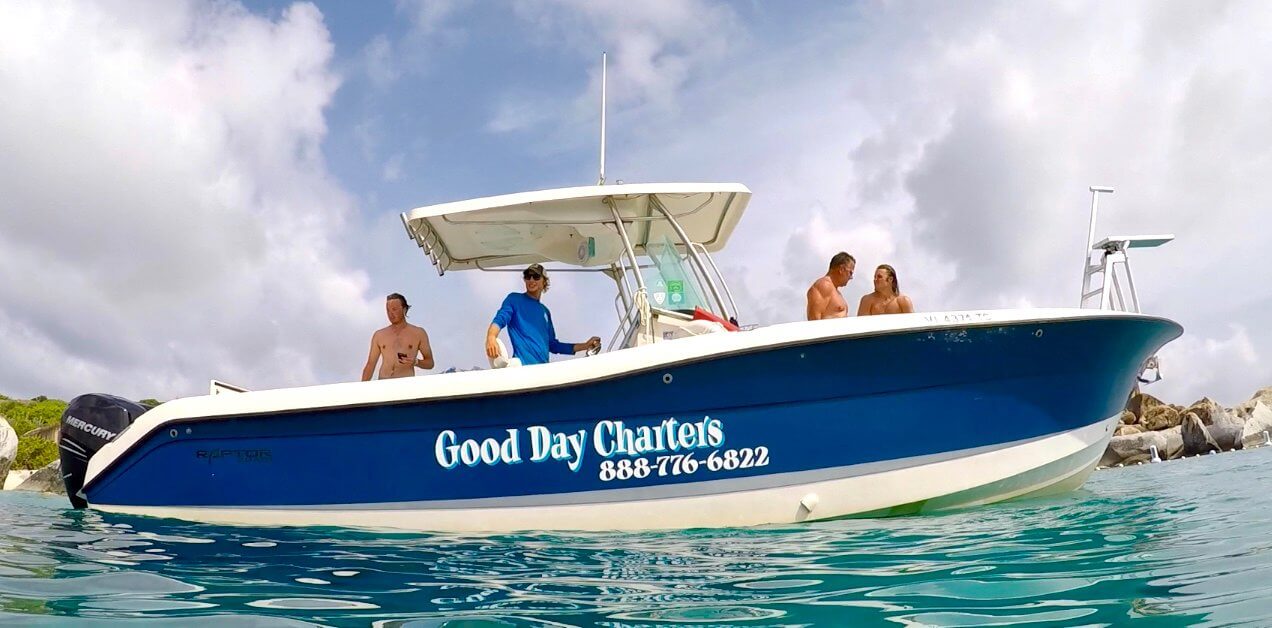 "True Blessings" 35′ Scout

Other Services
Private Full-Day British Virgin Island Boat Rental Trip/Excursion (starting at $550 plus captain, fuel used, customs fees and gratuity)
Passport required! 9:00am-4:30pm

Private Full-Day US Virgin Island Boat Rental Trip/Excursion (starting at $550 plus captain, fuel used, and gratuity) 9:00am-4:30pm

Anegada Boat Trip/Excursion (call for quote)

Half Day Boat Trip/Excursion (call for quote)

Late night runs to Tortola/Jost Van Dyke (call for quote)

Pick Up/Drop Off Tortola, Norman Island, Scrub Island, Jost Van Dyke (call for quote)

We can arrange a taxi for pick up/drop off from Cruise ship dock or hotel
Captain's Fee
The captain's fee is $150 for half and 3/4 day charters and $200 for full day, payable directly to the captain, in cash, on the day of the trip. Tipping of your captain for outstanding service is greatly appreciated and an average of 15-25% of the boat rental total is customary. Good Day Charters' captains are professionals and their overall goal is to make sure you have an amazing day on the water and will always perform at their best.
Fuel
Good Day Charters Fuel Guarantee: We guarantee fuel costs will not exceed $150 on "Jost Van Dyke Soggy Dollar Only Boat Rental". Fuel cost will not exceed $250 on "Triangle Trip Boat Rental". Fuel Usage is charged on all other US and BVI boat trip rentals. Good Day Charters has Fuel Management Systems, we start the day on zero gallons and know exactly how much fuel is burnt on each boat rental. ($100-$300 depending on distance travelled). Guests are responsible for filling the boat with the days fuel prior to or at the end of the boat rental, depending on timing and traffic at the fuel dock.
BVI & US Customs Fees
The British Virgin Islands require we clear customs when going to the BVIs, and we are required to check back into the U.S. at St. John when re-entering the country. This usually takes around 20 minutes on each end. In order to save time we ask that all BVI boat charters email us passport info for each guest so that we can have your paperwork filled out ahead of time. A VALID PASSPORT or BIRTH CERTIFICATE WITH ENHANCED DRIVERS LICENSE ARE REQUIRED FOR ALL BVI BOAT TRIPS (call for details) AND $65 CASH PER PERSON FOR CUSTOMS and HANDLING FEES. The BVI National Park fee of $6 per person is included in the $65 fee. (Additional fees may apply due to BVI Immigration holiday/weekend overtime fees). There will also be a fee of $70 for the entire boat when returning to the US customs in St. John. THIS FEE MUST BE PAID WITH MAJOR CREDIT CARD
Cancellation Policy
A non-refundable $100 deposit is required to reserve your day and it comes off your boat rental total. Please notify us at least 1 week (7 days) before the day of your trip if you need to cancel. If you fail to contact Good Day Charters and/or fail to show up for your trip (within 2 hours of your scheduled departure time), the entire day's boat fee and captain's fee will be earned by Good Day Charters and billed to your credit card on file.