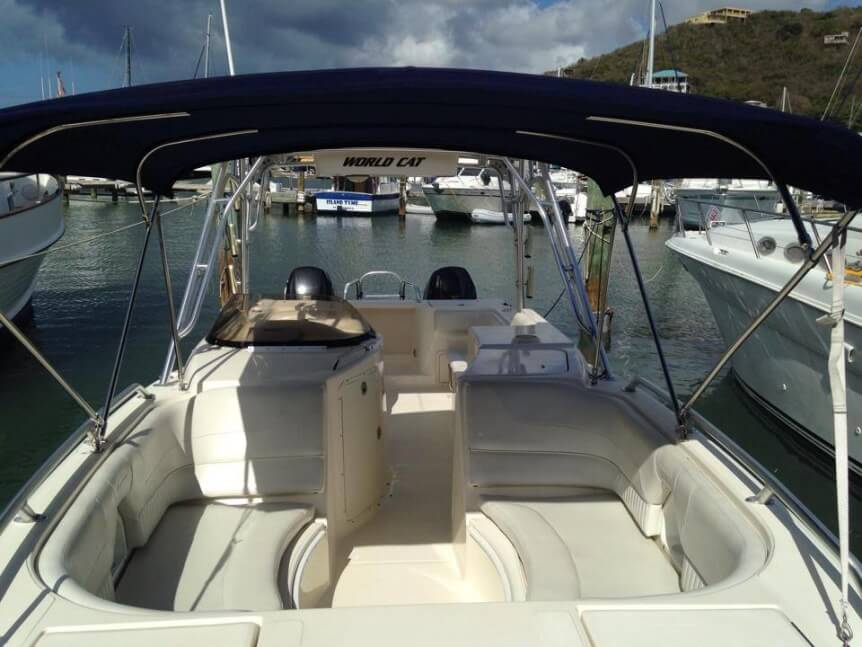 Full Day Private Charter – 29′ World Cat – "Two Good" Please Call For Availability
Product Description
***This boat requires confirmation from Good Day Charters prior to making a reservation.
Please call/text us at 340-514-3458.***
See the US & British Virgin Islands on our fun 29′ World Cat
Reserve our 29 foot World Cat, "Two Good," for a fun day with friends and family seeing the British Virgin Islands and the US Virgin Islands.
Full Day Boat Rental Rate Details
$600 for guests 1-6.
$50 for each additional guest up to 12.
For groups larger than 12, please call/text us at 340-514-3458.  If you have questions, please feel free to call us with those too.
Private Full Day Charter Details
NOTE: The excursion begins at 9am and returns at 4:30pm****
Start your full day private charter on our 35 foot named "Two Good" in St. Thomas at 9:00am.
Fall in love with Tortola, the Bubbly Pool or Jost Van Dyke in the British Virgin Islands.  Swim in peaceful and secluded Turtle Cove located just off St. Thomas, or have lunch at the Pizza Boat.  Well worth the wait.
Included In Your Private Charter:
Water
Snorkel Gear
Ice
Sodas
Additional Fees Due – Full Day Charter:
Captain's Fee: $150.00 (Because our Captains are truly worth it!)
Please pay this in cash and directly to the captain.
Gratuity  (15-25% of boat rental is customary)
If your captain was exceptional, please feel free to tip because it is greatly appreciated and they probably won't turn it down.  Our captains want you to have memories that will last a lifetime and their overall goals are to always perform their very best and for you to have an amazing day.
Fuel (Gotta get you to your destination somehow)
Fuel usage is managed through a Fuel Management System to know exactly how much fuel is burned on each boat. Guests are responsible for filling the boat before the full day charter begins or at the end.
British Virgin Islands Custom Fees: $40.00 cash (Don't forget your passport!)
Just like at the airport, we go through customs when going to the British Virgin Islands destinations and are required to check into the US Virgin Islands ($8.00 per person) at St. John when re-entering the country.
There are park fees when tying up to a mooring at the Baths or snorkeling at the Caves.  Usually this is about $6.00 per person.  Please note that some other fees could be applicable.